TEDx Virginia Tech: Accelerated Path to Cures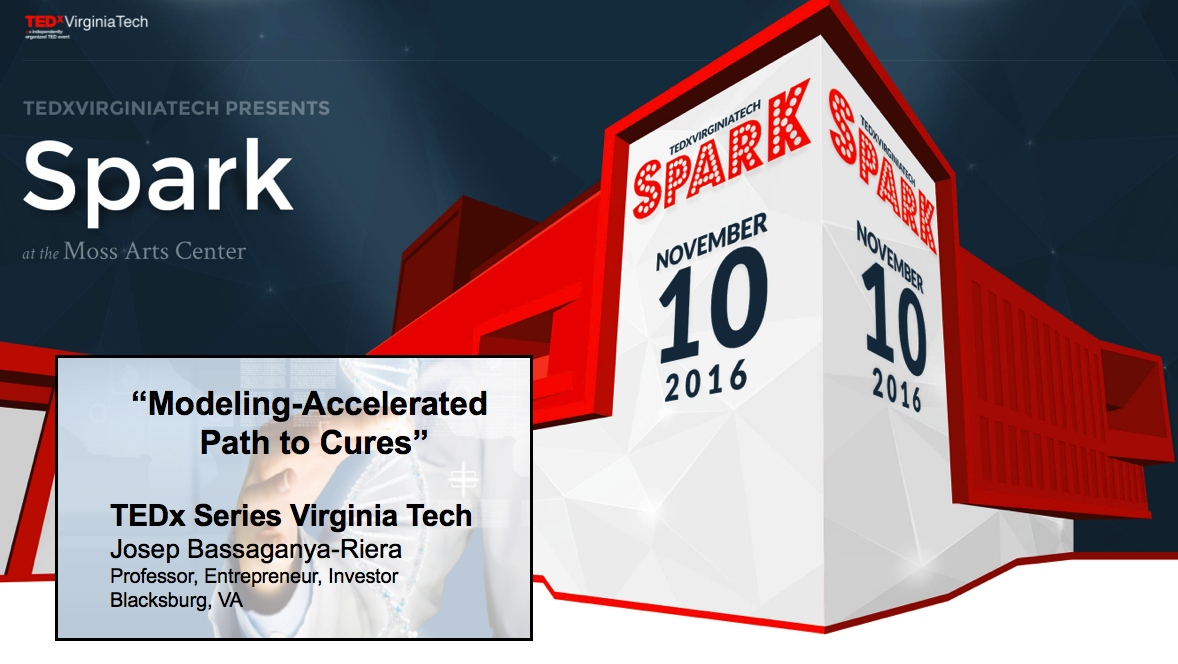 BLACKSBURG, VA., October 7, 2016 – This is the fifth year of the TEDx series at Virginia Tech. Featured speakers will focus their talks upon the theme of "Spark," as in the moment of inspiration that sets one on a new journey.
How many of us have shunned medication because, "the treatment is worse than the disease"? How many of us have experienced anti-inflammatory treatments with limited efficacy and significant side effects? Breakthroughs in precision medication may soon change the attitudes – and the experiences – of those of us suffering from inflammatory diseases.
Josep Bassaganya-Riera, Director of the Nutritional Immunology and Molecular Medicine Laboratory (NIMML) at Virginia Tech and Founder of BioTherapeutics will outline the future of precision medicine for inflammatory diseases. On November 10, 2016, presenting the talk, Accelerated Path to Cures, For Josep there have been many sparks in his long scientific career, but the two that he recounts the most are the application of transdisciplinary nutritional immunology methods to advancing pharmaceutical development and the use of computational modeling to comprehend complex systems such as the immune system.
Bassaganya-Riera's NIMML team at Virginia Tech is at the forefront of research efforts designed to understand how immune system behavior in health and disease emerges from molecular, genetic, cellular, microbial and dietary modulatory elements.
Thinking of the first spark. There is an inspirational quote from ancient Greek physician Hippocrates: "Let food be thy medicine and medicine be thy cure." This is Josep's guidepost when seeking the aid of nutrition immunology to help address unmet clinical needs for safer and more effective treatments.
Thinking of the second spark. Josep and his team have spent the better part of two decades searching for better treatments for Inflammatory Bowel Disease and its many clinical manifestations, but there are literally trillions of bacteria in the gut, over 70% of the immune system, which makes studying such interactions untractable by experimental methods alone.
Bassaganya-Riera will bring attention to transformative modeling approaches developed at Virginia Tech that have been found to improve efficiency, decrease cost and reduce the time required to find treatments for debilitating and widespread diseases. These modeling approaches combine computational and experimental methods. As a result, the identification, evaluation, and selection of drug targets and leads become less trial and error and more targeted, and better-informed development paths to new therapeutics and nutritionals.
The event will be hosted at the Moss Arts Center on the Virginia Tech campus and streamed live online.
For more information on the event as a whole, please visit http://tedxvirginiatech.com/.
Back to top