Pharmaceuticals
Disruptive drug innovation for treating inflammation and diabetes
Pharmaceuticals Overview
BTI Pharmaceuticals is a division of Biotherapeutics Inc. that develops disruptive drug innovation to treat inflammation and diabetes. Our multifaceted approach combines computational approaches with preclinical and clinical experimentation to streamline a novel precision medicine pipeline.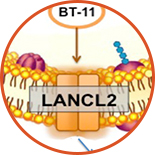 Unique Mechanism of Action
BTI Pharmaceuticals has developed an expansible therapeutic pipeline based on a unique mechanism of action: the LANCL2 receptor.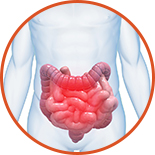 Inflammatory Bowel Disease
The current product pipeline is focused on developing anti-inflammatory small molecules to treat autoimmune related inflammation. Our initial market focus is Inflammatory Bowel Disease ($5B+ worldwide). Specifically, BTI is pioneering the development of disruptive oral therapeutics for Crohn's disease.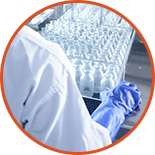 Efficient Pipeline
Our drug development pipeline combines computational modeling to guide preclinical and clinical development. This strategy allows us to accelerate the development of safer and more efficacious therapies to treat inflammation.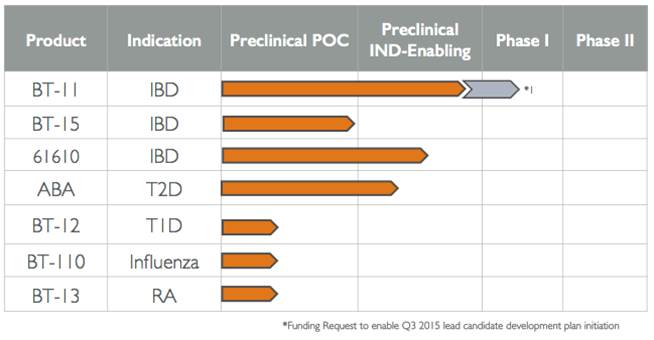 Disruptive Technology and Products
The novel LANCL2 technology enables suppressing inflammation following activation with our small molecule leads. The technology has been validated in our extensive animal pharmacology and toxicology studies and an IP conscious, scientific communication plan.
BTI has an extensive and expanding pipeline of patent protection; including ten patent families that include claims for the utilization of the unique LANCL2 pathway, as well as composition of matter claims for new compounds and trade secrets.
BTI's clinical lead for moderate to severe Crohn's disease is BT-11, an orally active, locally acting small molecule that targets LANCL2 and activates strong anti-inflammatory responses.
Check out our:
Back to top