BioTherapeutics CEO Named 2017 Innovator of the Year by Roanoke-Blacksburg Technology Council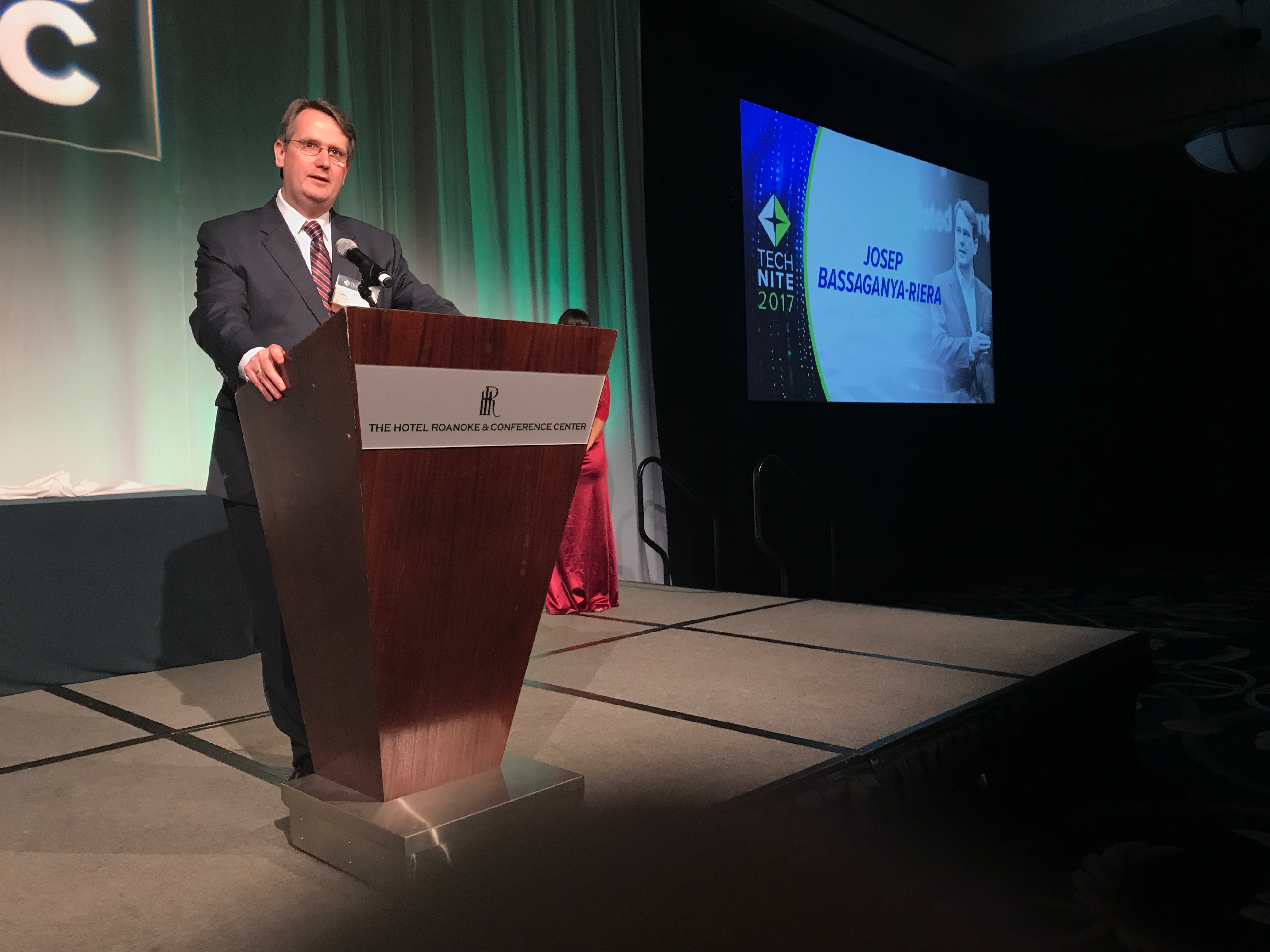 BLACKSBURG, VA — April 24, 2017—The Roanoke-Blacksburg Technology Council (RBTC) recognized a talented group of companies and individuals at its annual TechNite awards banquet, which was held at the Hotel Roanoke & Conference Center on April 21, 2017. TechNite is an annual celebration of the Roanoke - Blacksburg region's technology community.
Nominations were accepted for five awards: STEM-H Educator, Entrepreneur, Innovator, Regional Leadership, and Rising Star.
"The Innovator Award recognizes an individual, a group of individuals, company, or other organization that sets the standard for thought leadership and innovation in their respective field," says RBTC President Robert McAden. "By definition, they are doing something new or different, and they are doing it well. Their innovation represents a significant technological breakthrough."
President and CEO of BioTherapeutics, Inc. (BTI), Josep Bassaganya-Riera, was selected as the winner of the 2017 RBTC's Innovator of the Year award. He is a serial entrepreneur who founded three local biotech companies in the Virginia Tech Corporate Research Center, and leads the Nutritional Immunology and Molecular Medicine Laboratory at the Biocomplexity Institute of Virginia Tech. He has a demonstrated track record of successfully leveraging advanced informatics and computational modeling to accelerate the development of innovative technologies into marketable nutritionals and therapeutics for inflammatory bowel disease.
"It is a distinct honor and a privilege to accept the 2017 Innovation Award from the RBTC," says Bassaganya-Riera. "Transformative innovation is only possible with the unwavering resolve, hard work, loyalty and dedication of a fantastic group of individuals. I am proud that our team shares a vision for the future of precision medicine and health."
Bassaganya-Riera discusses his innovative vision for precision medicine during Virginia Tech's most recent TEDx event. In his discussion, he explains how modeling and simulation of immunological systems helps capture human variation and diversity and offers clinicians and patients a more rapid pipeline between clinical trials and personalized, individual treatments for human diseases.
About BioTherapeutics, Inc.
BioTherapeutics, Inc., a clinical-stage biotech company that synergistically combines the power of advanced computational modeling with translational and clinical experimentation to accelerate the development of novel products for precision medicine and health. The company is headquartered in Blacksburg, VA. For more information, please visit www.biotherapeuticsinc.com or contact pio@biotherapeuticsinc.com.
Contacts
Josep Bassaganya-Riera
540.218.2262
jbassaganya@biotherapeuticsinc.com
For Media Requests:
Jennifer Collette
540.218.2262
Related Press Releases:
TEDx: https://biotherapeuticsinc.com/index.php/news/detail/tedx-virginia-tech-accelerated-path-to-cures
BT-11: https://biotherapeuticsinc.com/index.php/news/detail/bt-11-oral-therapeutic-for-inflammatory-bowel-disease
Precision Medicine: https://biotherapeuticsinc.com/index.php/news/detail/precision-medicine-and-health-at-biotherapeutics
Back to top