Nutritionals
Safer and more effective nutritional products from nature's innovation
Punicic Acid (PUA)
Why PUA?
Punicic acid (PUA) has demonstrated effectiveness in decreasing gut inflammation and improving digestive health.
What is PUA?
PUA is a dietary lipid found in pomegranate seed oil (PSO).
BTI Discoveries
Oral supplementation of PSO and its predominant bioactive constituent has demonstrated efficacy in suppressing gut inflammation.
The health benefits of PUA resemble those of conjugated linoleic acid (CLA).
PSO ameliorates intestinal inflammation in mouse models of Inflammatory Bowel Disease (IBD) and necrotizing enterocolitis (NEC).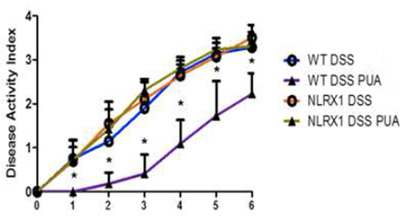 Innovative Pathway - NLRX1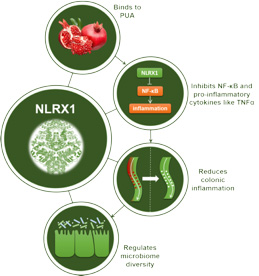 PUA binds to nucleotide-binding oligomerization domain, leucine rich repeat containing X1 (NLRX1).
Involved in down-regulating inflammation during bacterial and viral exposure, acute non-infectious colitis, colorectal cancer and chronic pulmonary disease.
Demonstrated convergence between NLRX1, antimicrobial peptide production and altered microbiome ecology.
Loss of NLRX1 during colitis causes severe mucosal damage.
Significance
PUA reduces gut Inflammation
PUA is uniquely positioned as a food ingredient for maintaining gut homeostasis and health.
Dietary PUA is too low
The low concentrations of PUA in regular diets are insufficient to induce beneficial health and dietary PUA supplementation is required.
PUA is safe
PUA is safe for human consumption and found naturally in pomegranates.
Back to top